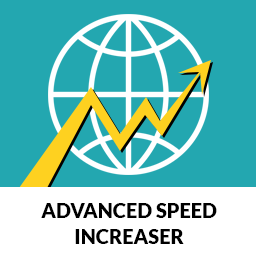 Did you know?
🎖

Plugin ranks 8,840 amongst 50,000+ plugins.

👷🏿

We think this plugin is not actively maintained, as there are no major udpates for over a year.

📥

Umm.. Very few new users pick this plugin...

📢

3 total updates and 4 in last 12 months. Is that good enough for you?

👍🏾

This plugin has not yet gained popularity. May still be useful though.

❤️

Plugins developed by these contributors are not that popular.

👨‍👨‍👧‍👧

One man show!! Only a single contributor for this plugin.

🎂

This plugin celebrated it's 3rd anniversary 1 month ago.
Key Numbers
1,000+

Active Installs

3.5

Avg. Users Rating

8

Total Ratings

11,110

Total Downloads

2016-08-16

Added

4

Releases in 12 Months

2018-12-14

Last Update

2.2.0

Current Version
Description
Advanced Speed Increaser is a light weighted plugin to speed up wordpress website by using GZIP compression and setting header expiration for images. The plugin uses .htaccess file for compression. This plugin also minify HTML, inline CSS and Javascript. Including Database cleanup and optimization tool to make your wordpress website lighter and faster.
Features
Advanced Speed Increaser enable GZIP compression in your website.
Advanced Speed Increaser enable Leverage Browser Caching.
Advanced Speed Increaser Turn Off ETags.
Advanced Speed Increaser minify HTML, inline CSS and Javascript.
Advanced Speed Increaser set far future expiration date for static files (eg. image,fonts,javascript etc).
Advanced Speed Increaser gives you an option to remove auto revisions posts.
Advanced Speed Increaser gives you an option to remove auto drafts posts.
Advanced Speed Increaser gives you an option to remove transient options.
Contributors
animeshsarakd
Reviews
Very Volatile Plugin
500 internal server error! It also blocked my post from being crawled by Google, blocked my FB application, and blocked my Disqus comment box! This is a very volatile plugin! I can't recommend. All the people giving it 5 stars are from India! WOW, this tells me to review the WP comments before installing a plugin next time! Animesh Kumar (PLUGIN AUTHOR)! YOU MADE ME MAD WITH YOUR RESPONSE BELOW TO THIS PROBLEM. "Mate you just need to take copy of .htaccess file before installing it. The plugin changes only .htaccess file. Just remove code of .htaccess file in between # BEGIN Advanced Speed Increaser ...code # END Advanced Speed Increaser Some server does not support GZIP compression. That is why your site showing 500 error." FIX THE ISSUE OR GET RID OF THIS ISSUE OR GET RID OF THE PLUGIN 1. You should have big red sign WARNING that this will crash your server. 2. You should give clear instructions on handling the .httaccess file before instaling and what GZip does. I am using Amazon Web Service so I doubt I would expect all these major issues! 3. You should set the plugin to clean up after itself when it is removed, so no extra work is needed. 4.I got this plugin because it said it was "a lightweight plugin" what a lie!
Nice Plugin
Nice Plugin
Internal Server Error 500 ...
My host supports GZIP compression but Advanced Speed Increaser gives me immediately after activation an 500 internal server error. Had to remove the files from the plugin directory and clean my .htaccess file to get everything working again. Don't kow what this plugin exactly tries to do, I tested other "speed optimizers" before but this is the first one which causes problems. Not really recommended...
so good
so helpful......
Excellent Plugin
Excellent Plugin
Awesome Plugin!
I've been using this plugin for sometime with great results. Thank you.
Killed my site!
The second I activated it - BANG!!! The site was dead with 500 error! Deleting all plugins, restoring database - nothing helped, 500 error! Luckily I have dicsovered a yesterday's backup on server, and I was able to restore the site. YES I did backup before installing it, but it did not help - I was not able to enter wp admin, and manual restore of database did not help. The plugin messed with some core WP things. Not recommended unless you have a full server-side backup and willing to risk. For me, the cost was a day worth of work that was lost in crash.
Excellent Plugin
This excellent plugin increase my site load time significantly. Thank you for bring it to wordpress!
Keywords
clean spam
expires header
expiry header
far future expiration
gzip
javascript
Was this useful?
Would you recommend this plugin summary to your friends?
---