Did you know?
🎖

Plugin ranks 5,802 amongst 50,000+ plugins.

🎂

This plugin celebrated it's 8th anniversary 4 months ago.
Key Numbers
$59.00

Price

10,789

Total Sales

4.66

Avg. Users Rating

479

Total Ratings

2014-04-12

Added

2016-11-05

Last Update
Description
Bookly — awesome appointment booking and scheduling solution, 10,000+ satisfied business owners agree. Simple setup & mobile device friendly, excellent support!
Fully Customizable
Make the structure and design of the booking form best fit your business: choose how you want to display date & time options, add custom fields to request for more info from customers, and change the wording and colors of the booking form.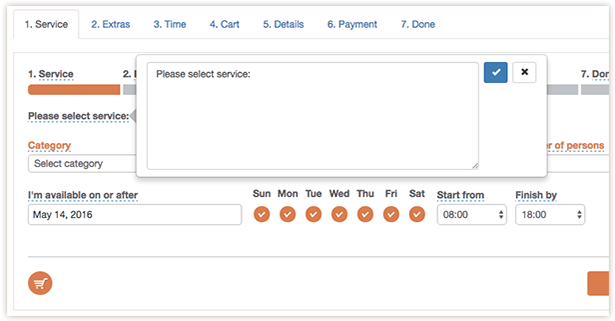 Mobile-Friendly
The booking form automatically re-adjusts to fit the mobile version of your website when viewed on mobile devices.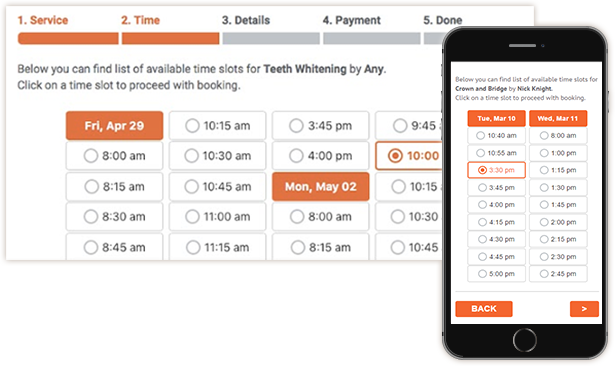 Sleek & Intuitive Design
Smart and intuitive interface will help the booking form fit right into your beautiful website while making sure that no one falls through the cracks in the middle of the booking process.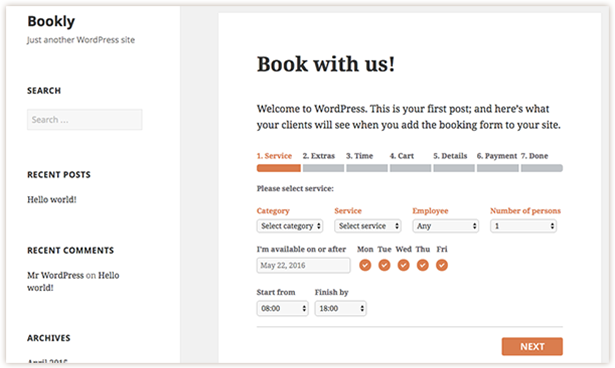 User-Friendly Admin Area
Intuitive back-end interface will help even inexperienced WordPress users access Bookly's functions and manage appointments.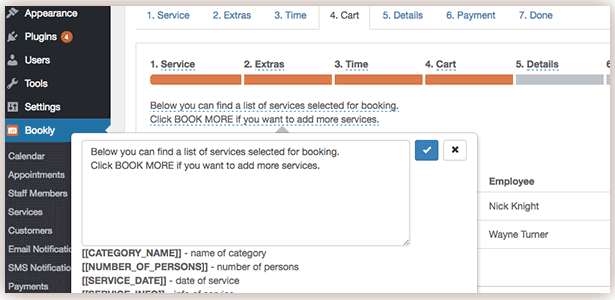 Rich Service Line-Up
Re-create the complex structure of services you offer online without simplifying it. You can sell everything via Bookly, even optional extras to add to services (learn more about the Bookly Service Extras add-on)

Staff Calendars Sync
Manage your staff by automatically syncing bookings with their Google Calendars.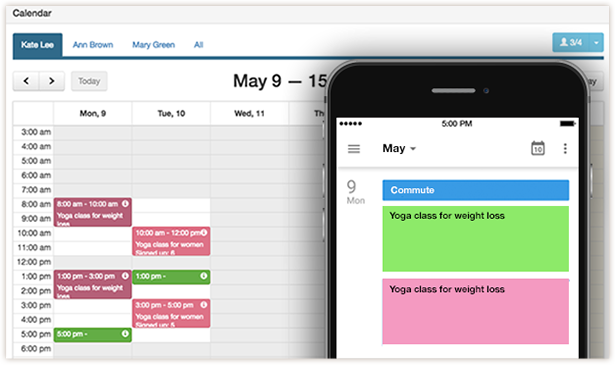 New in v9.1: Manually Confirm Bookings
Don't commit to anything until you're certain by having new appointments created in pending status.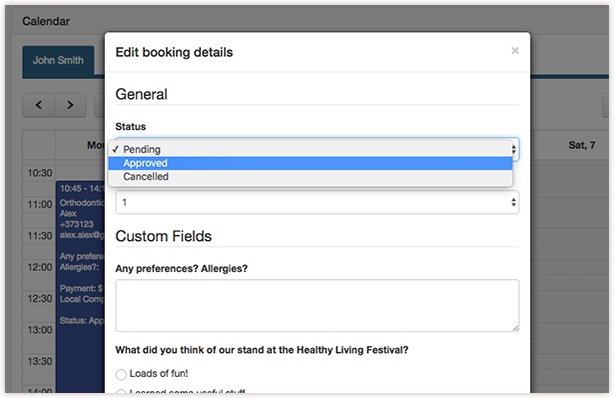 Secure Online Payment
Maximize conversions by charging customers online at the time of the booking via various widely trusted payment systems: PayPal, Stripe, Authorize.Net and others.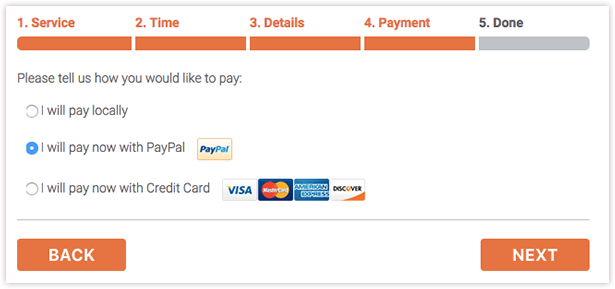 Email & Text (SMS) Message Notifications
Build notifications that work best with your audience and set up triggered or scheduling mailing via Bookly.

Holidays And Days Off
Set weekends and holidays for your company or for individual team members.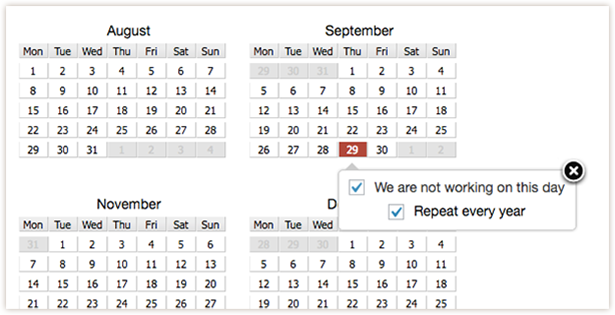 Variable Appointment Lengths & Padding Time
With Bookly, appointments don't just have different lengths – they can have padding time around them too. Define time intervals for your booking form.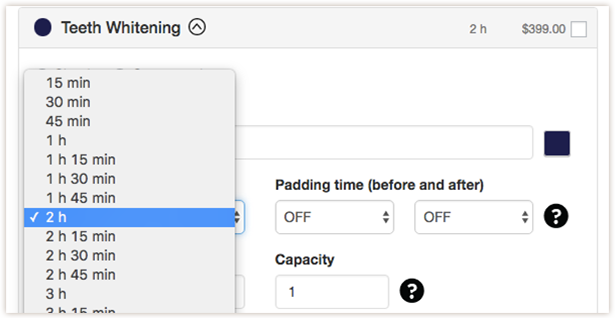 Unlimited Number of Services And Staff Members
Create an unlimited list of services and staff members according to your business type and size.
Connect staff members with services they provide.
Link each employee to their Google calendar.
Tie each team member to one or several services.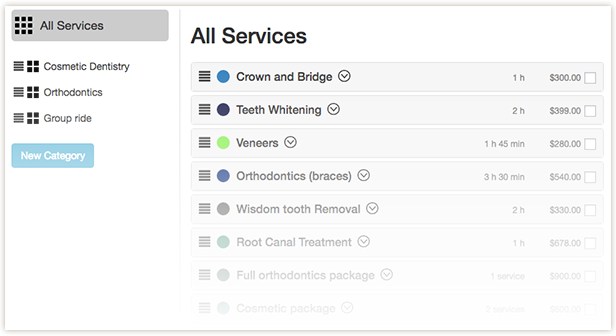 Individual Pricing for Each Staff Member
With Bookly, you can reflect your team members' experience in prices for their services by setting up individual prices for selected providers.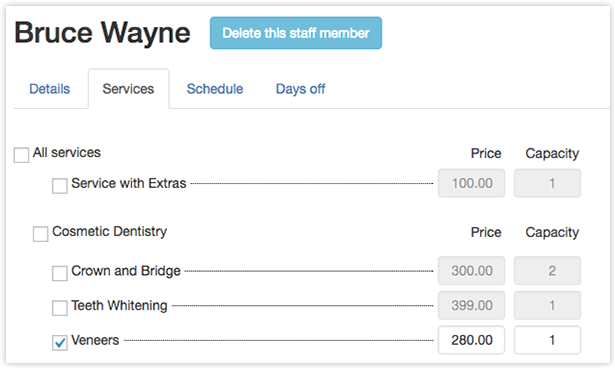 Custom Schedules for Each Staff Member
Your team members don't have to stick to your generic business hours: create their own working days, breaks and block annual leave right from the plugin.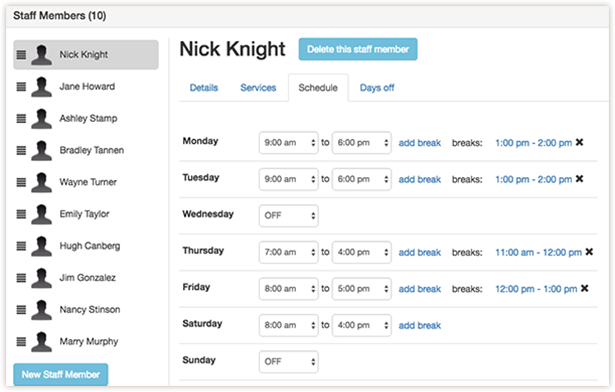 Let Customers View & Edit Bookings Online
Add a personalized and automatically updated list of bookings to any page of your website to let customers view or cancel their appointments online! Or create limited-access accounts for new customers and let them manage their bookings on the WordPress visitor dashboard of your website.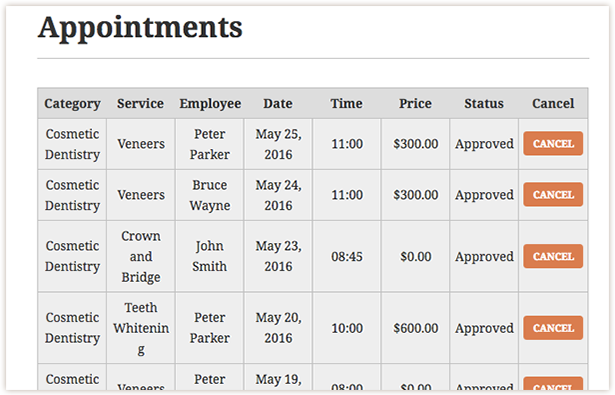 Group Bookings & Booking of Multiple Services in One Session
Allow your customers to book several of your services or book one service for multiple people – all in one session .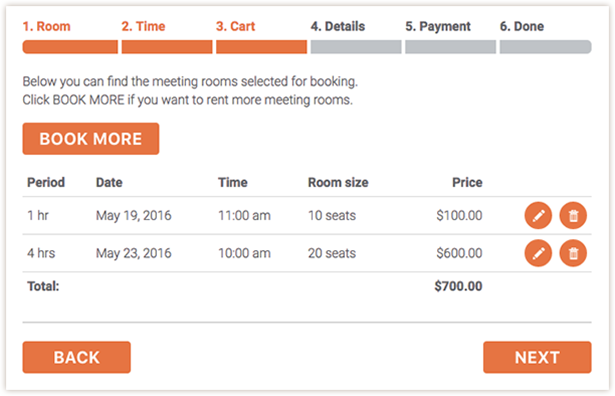 Coupons
Customers love promotions and discounts. With Bookly, you can offer percentage or hard amount coupons to attract more clients.

Notifications & Reminders to Team Members
Inform admin and staff members about upcoming and updated appointments via automated email and text message notifications.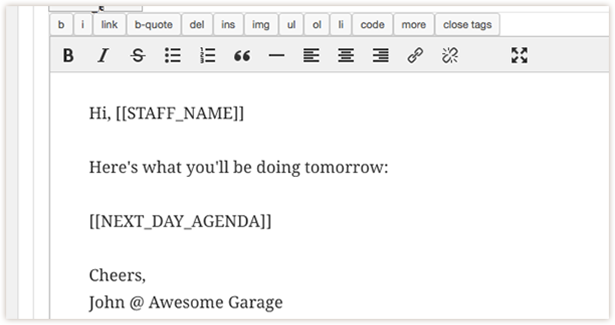 Color Coding of Services at the Back End
Assign a unique color to every service and keep track of your appointments visually/schedule visually.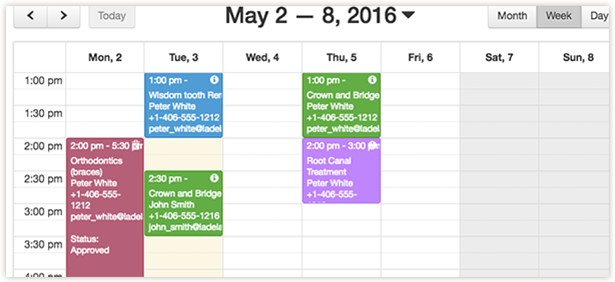 Minimum Time Requirement Prior to Booking or Cancellation
Set time limits on how late before actual appointments customers can book or cancel them.

Multi-Language Support
The Bookly plugin is compatible with WPML supporting multi-language websites. Moreover, .po and .mo files allow you tweak translations for your business.

Import & Export Data
You can easily export practically all data created through the plugin, incl. appointments log and customer info. You can even import a list of customers to avoid duplicate accounts for returning customers.
Progress Bar
The booking form progress tracking will indicate your client's progress during a multi-step booking process.

Configurable Payment Reports
Regularly check payment reports. Use various filters to manage them.
Add Connected Booking Forms to Multiple Sites with Multisite Add-On
Have got several websites for various branches of your business? With the Multisite Add-On, you can set up connected Bookly forms on each website for all bookings to get aggregated into one admin area. Learn more about Bookly Multisite Add-On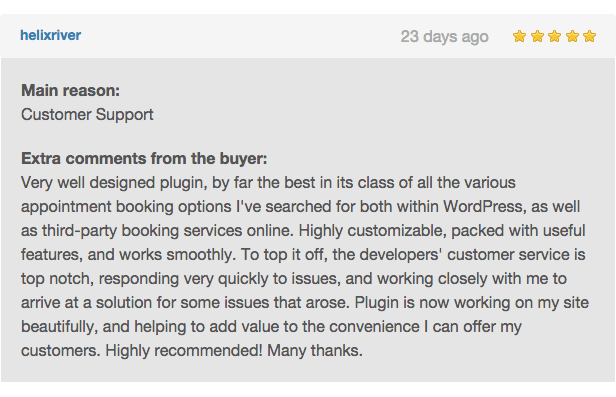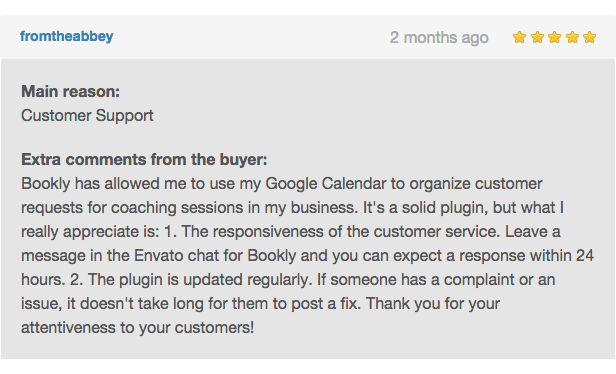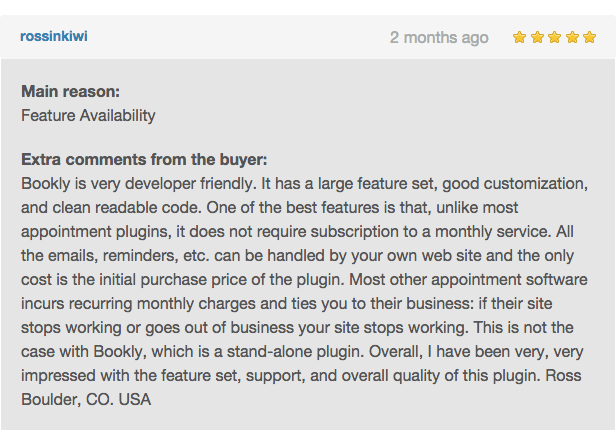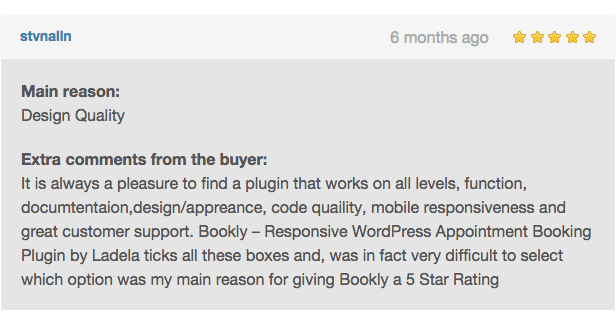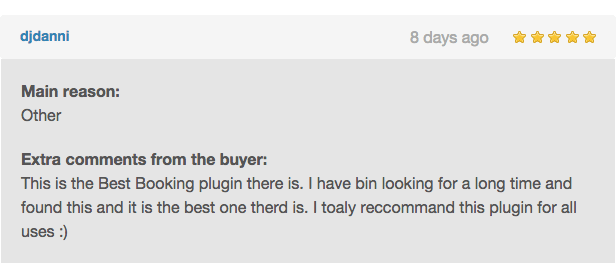 Bookly perfectly supports:
beauty, massage, wellness and healthcare reservations;
sports, trainings, dance, fitness, yoga, pilates appointments;
scheduling learning and educational courses, tutors and helpers;
organisation of special events and free-time activities;
searching and booking of visit to photographers, stylists, placing requests for babysitters, dogwalkers etc.
How it works
After a simple installation process the website owner can start creating services which can be provided to customers upon request such as events, meetings, lessons, consultations etc. The administrators can easily change and customize settings including individual schedule for each service provider, individual service prices, working days and hours for the whole company and for each service provider separately. They can also view lists of appointments and customers, billing information and payment reports with filters on multiple criteria. The plugin also has an option to create appointments manually through the WP admin panel.
Bookly offers a unique solution to make the process of booking pleasant for customers – the only thing that is required from the client is to complete 5 easy steps. Intuitive interface as well as clear and attractive design makes this process extremely easy. Customers have possibility to find a convenient time, select service provider, book an appointment and pay for it. One more thing that will please your clients is the ability to view available time slots in their own time zone.
Let's say you have installed the Bookly plugin, but its default design doesn't correspond to the appearance of your website. Our developers took care of everything – you can easily modify the booking form design according to your own needs. It's possible to adjust the main color and change the fields' titles and descriptions.
The plugin offers easy and comfortable way of communication between service providers and customers by using e-mail and SMS notifications. There are several types of notifications for different cases – reminders, confirmations, follow-ups, agendas etc. You may also send notifications to your staff members, for example to give some information about the next agenda or appointment details. Website owner can manage all notification settings in the WP admin panel.
Customizable calendar allows looking through appointments for either all or particular service provider and can be displayed in three modes, which are month, week and day. Administrators can also create new appointments and edit the existing ones. It is also possible to assign a color to each service for better identification.
By entering your purchase code in Bookly ⇒ Settings you will get access to Bookly updates that will let you always have the latest version of the plugin.
View the change log. Follow us





Author
Ladela
Keywords
2checkout
appointment
Booking
calendar
cart
Google Calendar
paypal
payson
Reservation
responsive
stripe
woocommerce
wordpress
WPML
Was this useful?
Would you recommend this plugin summary to your friends?
---