Did you know?
🎖

Plugin ranks 1,648 amongst 50,000+ plugins.

🎂

This plugin celebrated it's 5th anniversary 6 months ago.
Key Numbers
$10.00

Price

306

Total Sales

4.45

Avg. Users Rating

11

Total Ratings

2014-03-27

Added

2015-10-14

Last Update
Description
Note: you can get this extension from Visual Composer Extensions All In One. You do not have to purchase again if you purchased the All In One package before. And it's recommended to purchase the All In One package which will contain other extension in the future update:
Update log
Feb 28 2015 - ver 1.2.2
Fix: when close the button in Depth Modal return the page top. Now it will stay in the same position.

Sep 26 2014 - ver 1.2.1
Fix a potential getimagesize error in some server configuration.

Jun 9 2014 - ver 1.2
Make it compatible with VC which is installed with a theme
Add an option: layout the images after all the images are all loaded, make it compatible with some theme like the7.

9 April 2014:
Added Masonry Gallery extension, update the access menu. You can download the latest source and overwrite them in your server to update.

Features
CSS3 transition.
The gallery thumbnail support retina, you can add lightbox or custom link to the thumbnail. See the screenshot.
CSS3 transition (driven by animate.css, with 20+ transition options) for the popup notification.
Extend the Visual Composer, work fine with the VC update.
Include Depth Modal and Scrolling Notification extension.
Link label in Depth Modal support HTML and shortcode, help you to put popup window to any kind of content.
Popup support any kind of content.
Optional popup window background, text color, width and margin top.
Multiple notification, you can add a unique notification for each post or page.
Optional opacity, position, color, animation style and cookie feature for the notification.
Compatible with latest jQuery and latest WordPress.
Enqueue the js and css only when needed. Keep WordPress page size smaller.
FAQ and source code are included in the package. Free update in the future.
Recommendation for you
Image Map HotSpot WordPress Plugin: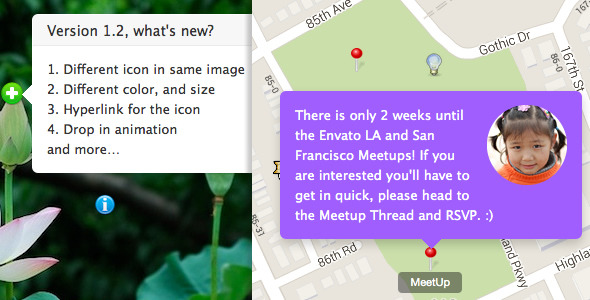 Credit
jQuery http://jquery.com
avgrund http://lab.hakim.se/avgrund
Author
sike
Keywords
animation
button
css3
depth modal
lightbox
marketing
masonry gallery
modal
notification
popup
responsive
transition
visual composer
Was this useful?
Would you recommend this plugin summary to your friends?
---