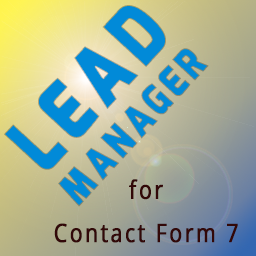 Did you know?
👷🏿

We think this plugin is not actively maintained, as there are no major udpates for over a year.

📥

Umm.. Very few new users pick this plugin...

📢

There is only one release of this plugin so far.

❤️

Other plugins from this team are not picking up well. Proceed with caution.

👨‍👨‍👧‍👧

It takes two to tango! We found two people behind this plugin.

🎂

This plugin is going to celebrate it's 2nd anniversary after 3 months.
Key Numbers
20+

Active Installs

4

Avg. Users Rating

4

Total Ratings

367

Total Downloads

2017-12-21

Added

1

Releases in 12 Months

2018-05-21

Last Update

1.0

Current Version
Description
What is contact form 7 db storage & Lead Manager plugin?
Contact Form 7 Database Storage & Lead Manager plugin not only allows you to save complete submission data via contact form 7 forms, it also helps you export the data on later stage. You can use as much contact forms using Contact Form 7 plugin as you want. This WPCF7 add-on saves data from all of your contact forms to database.
Contact form storage helps you find the old contact form 7 submissions in your WordPress admin. By default CF7 sends you email notifications when someone submits the form on your website. This contact form 7 db add-on records each form submission which can be later reviewed by you.
Features
Quick to install and setup.
Compatible with latest version of Contact Form 7.
Saves data from all Contact Form 7 forms.
Detailed reporting allows you to see which form is sending you more leads.
Export data to CSV file.
Leads insights with User Agents, IP, HTTP Referrer, Landing Page, Submission Page.
Track even deleted Contact Form 7 data.
Works with WordPress V4.0 to V4.9
FEATURES COMING SOON
lead Manager Interface will allow you to manage all leads and correspond to the inquiries using your WordPress admin instead of your email address.
Tag each lead with tags like "answered, replied, followed up, waiting for response".
Pop3 Integration will allow you to receive all the inquiries and replies in WordPress control panel.
Filter data via drop down with different contact forms.
Multi-Lingual Version.
Arbitrary section 1
Contributors
shahzad11
wpcf7
Reviews
Good plugin to capture all contact form submissions
Awesome plugin. We required a plugin same like this one.
Life easier and Save Data :)
Never found such features in a free version, thanks for making my life easier. I can save my data now :)
It doesn't work what the plugin says
When I installed the plugin to my site and check how it works, I hover my mouse in the menu but it only shows the setting icon and of course the setting page shows up. NO leads page, NO statistics page NOTHING AT ALL! THAT WILL NEVER WORK!
Lead Capturing is just GREAT!
One of the best free plugins in the market. Never found something that can get me leads within contact form 7. Even the page is listed from where the lead came through and more. Thanks! Hold up!
Keywords
cf7
contact form 7
contact form 7 db
contact form seven
contact form storage
Was this useful?
Would you recommend this plugin summary to your friends?
---