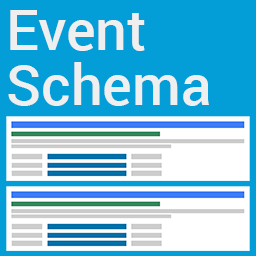 Did you know?
❤️

Plugins by these developers are fairly popular. That is good news.

👷🏿

We think this plugin is not actively maintained, as there are no major udpates for over a year.

📥

Umm.. Very few new users pick this plugin...

📢

3 total updates and 3 in last 12 months. Is that good enough for you?

👨‍👨‍👧‍👧

It takes two to tango! We found two people behind this plugin.

🎂

This plugin celebrated it's 2nd anniversary 5 months ago.
Key Numbers
500+

Active Installs

4

Avg. Users Rating

4

Total Ratings

3,334

Total Downloads

2017-02-09

Added

3

Releases in 12 Months

2018-06-21

Last Update

1.1.1

Current Version
Description
Generate Google Event Rich Snippet Schema for your calendar and get event promoted in Google search.
This plug-in generates complete JSON-LD based schema (structured data for Rich Snippet) for events and support many leading Event Calendar plugin.
This Plugin automatically adds complete JSON-LD based schema (structured data) to event posts generated with following plugins.
Standard Google Event Rich Snippet Schema.
Event detail page Event schema
Automatically create Event Rick Snippet for your event, No Manuall work.
Work with leading Event Calendar Plugins like Event Manager, All in one Event Calendar, EventOn, WP Event Aggregator, Import Facebook Events, Import Eventbrite Events, Import Meetup Events
Events Manager Ticket can be shown in Google Schema
For All In One Event Calendar by Time.ly support Event List , Agenda, Day, Month, Week, Posterboard, Stream. (Pro)
Works with:
No configuration required for this plugin its work automatically, you can disable schema from "Settings"->"Event Schema"
Pro Version with Premiun Support
* Event Schema Pro
Contributors
Dharm1025
xylus
Reviews
Plugin broken, developer AWOL
Apparently not working in most cases, developer seems to be AWOL.
Good Schema For Events
This provides good quality and easy inputted schema for our events. Google has a few recommended fields that aren't being populated, but that's no real problem. Functions well.
Works Great
I've got this plugin working with the Timely All in One Calendar.
Does everything I need it to do! Automatically!
YAY! I was a little hesitant to be the 9th person to install this, but I checked the site with Securi after installing and we're okay! I checked the structured data with Google's tool and it was only missing two recommended fields, eventStatus and offers. I think it may be because the free version of Time.ly doesn't have it or I didn't enter that info in the Tiem.ly event fields. I only just installed it, so I don't actually know what it ends up looking like in the search results, but if google says it's good, it must be good! Thank you so much!
Keywords
event
event schema
event structured data
schema
structured data
Was this useful?
Would you recommend this plugin summary to your friends?
---