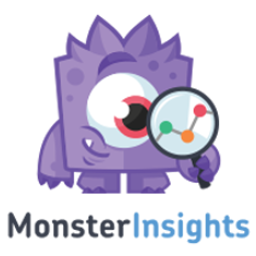 Did you know?
👷🏻

This plugin is actively maintained and contributors are really committed to it!

📥

Wow! 8,404 people download this plugin eveyday!

📢

Reliable plugin.. 12 total updates and 12 in last 12 months. That's great track record.

🎖

Excellent plugin. It's one of the Top 100 WordPress plugins here.

❤️

Mindblowing! More than 12,529,430 people use plugins from this team.

🏂

56% of 2,000,000+ users are on the latest version.

👨‍👨‍👧‍👧

It takes two to tango! We found two people behind this plugin.

🎂

This plugin is going to celebrate it's 12th anniversary after 4 weeks.
Key Numbers
2,000,000+

Active Installs

3.9

Avg. Users Rating

576

Total Ratings

34,707,932

Total Downloads

2007-09-14

Added

12

Releases in 12 Months

2018-09-19

Last Update

7.2.0

Current Version
Description
Google Analytics Plugin for WordPress
We believe that you shouldn't have to hire a developer to add Google Analytics to your website. That's why we built MonsterInsights, a complete Google Analytics for WordPress plugin that's EASY and POWERFUL.
MonsterInsights allow you to connect your WordPress website with Google Analytics, so you can see how visitors find and use your website, so you can keep them coming back. Simply put, we show you the stats that matter.
With almost 15 million downloads, MonsterInsights is the most popular Google Analytics plugin for WordPress.
At MonsterInsights, user experience is our #1 priority. That's why we make it extremely easy for you to connect and view your Google Analytics reports from inside your WordPress dashboard. Our tracking settings and workflows make MonsterInsights the most beginner friendly google analytics plugin in the market.
We took the pain out of connecting with Google Analytics and made it easy. Here's why over 1 million smart business owners, designers, and developers love MonsterInsights, and you will too!
Quick & Easy Google Analytics Setup
Easily setup Google Analytics on your site without touching any code. If you can point-and-click, then you can use MonsterInsights.
Google Analytics for WordPress plugin by MonsterInsights allows you to track your blog visitors easily and always stays up to date with the newest features in Google Analytics.
Google Analytics Dashboard + Real Time Stats
MonsterInsights makes analytics easy. You can see your site's performance at a glance with our Google Analytics Dashboard right inside your WordPress admin area.
With Google Analytics, there's no need to wait till the next day to find out about traffic spikes or potential problems. You can get real time stats, so you can unlock the maximum potential revenue for each customer.
Universal Tracking + Page Level Analytics
MonsterInsights uses universal tracking, so you can track your users across devices and platforms. With demographics and interest reports, you also get a better understanding of your audience.
The page level analytics show you exactly which pages and sections on your website are the most popular.
You can also see how the users are finding your website, so you can better focus your marketing efforts.
eCommerce and Ads Tracking
MonsterInsights Ecommerce addon helps you add Google Analytics Ecommerce tracking to your WordPress WooCommerce and Easy Digital Downloads store.
You can add eCommerce tracking with literally 1 click, and start tracking popular products, average order value, ecommerce conversion rate, and more.
With our Ads tracking addon, publishers can easily track the performance of their Google Adsense inside their Google Analytics dashboard.
Custom Dimensions, Events Tracking, and More
MonsterInsights allow you to take full advantage of all the powerful Google Analytics features such as custom dimensions, file download tracking, outbound link tracking, events tracking, performance tracking, and more.
Full MonsterInsights Feature List
Quick and Easy Setup – Easily setup Google Analytics for WordPress with just a few clicks (no coding needed)
Real Time Stats – See real time stats inside your Google Analytics dashboard.
Universal Tracking – Get better insights with Google Analytics' universal tracking.
Google Analytics Dashboard – See the stats that matter from right inside your WordPress dashboard.
Ecommerce Tracking – Add Google Analytics tracking for WooCommerce and Easy Digital Downloads store.
Ads Tracking – Track your Google Adsense ads with Google Analytics.
File Download Tracking – Enable file download stats with just a click.
Link Tracking – Track your outbound link clicks with Google Analytics.
Events Tracking – Track custom button and banner clicks with Google Analytics.
Custom Dimensions Tracking – Enable Google analytics custom dimensions tracking for WordPress.
Author Tracking – See who's the most popular author with Author tracking.
Popular Post Tracking – See which blog post and section is the most popular.
Custom Post Type Tracking – Track the performance of your custom post types.
Referral Tracking – See how visitors are finding your website to better focus your marketing efforts.
Performance Tracking – Control the performance rate and sample rate for your Google Analytics report.
Enhanced Link Attribution – Get better analytics with enhanced link attribution.
Google Analytics Tools – Helpful tools for Google analytics.
Want us to add something else? Suggest a feature and we'll get it added!
Popular Google Analytics Tutorials
Note for Beginners
Like all WordPress plugins, Google Analytics by MonsterInsights is only available for self-hosted WordPress sites. This means you will need to switch from WordPress.com to WordPress.org if you want to use this plugin on your WordPress site.
For more details, see this infographic on self hosted WordPress.org vs free WordPress.com
Credits
This plugin is created by Chris Christoff and Syed Balkhi with sponsorship from WPBeginner.
What's Next
If you like this plugin, then consider checking out our other projects:
This plugin would not be possible without the help and support of WPBeginner, the largest WordPress resource site. You can learn from our free WordPress Tutorials like how to install WordPress, choose the best WordPress hosting, WordPress glossary, and more.
You can also learn about other best WordPress plugins.
Contributors
chriscct7
joostdevalk
smub
Reviews
Free version works well
No complaints on the free version.
Works great
Been using this for years. Occasionally there's glitches (usually resolved via updates) but for the most part it works great. The custom dimensions are a great plus.
Works for me
Works great.... they tell me that they are working on a feature that will let you see individual post views....which will be even better...
Too many ads
This plugin displays too many ads. A lot of popup and alert asking me to buy pro version.
Unbrauchbar
Schon die Autentifizierung bei Google über den Button "Autenticate with your Google-Account" war nicht möglich (es wurde nur die Settings-Seite neu geladen, ohne dass der Google-Autentifizierungs-Dialog erschien). Bei einem alternativen Plugin funktionierte dies ohne Probleme. Auch die alternative manuelle Eingabe meiner gültigen UA wurde nicht akzeptiert ("Invalid UA code"). Auch dies funktionierte bei einem alternativen Plugin perfekt. Plugin wieder gelöscht, da für mich völlig unbrauchbar, wenn schon ein Setup nicht möglich ist.
Analytics well done
Using this for years now, and it keeps improving. Authentication is a breeze, lot's of functionallity build in. Like the way they keep adding useful features and are on top of developments.
It's great
Does the job effectively and simply.
After a while I no longer see the benefit
Everything was fine until one day I started getting prompts everywhere the plugin shows up to upgrade to pro. It is invasive and rude and, definitely, not the way to entice users to upgrade. None of the features work as they are all covered by the message inviting me to upgrade to pro. I don't care about the pro features, I want to track basic usage and the pro features are overkill That and the "in your face" upgrade invitations mean I am not likely to continue using the plugin
Most Excellent
This plugin is filled with so much business value. Thank you, MonsterInsights for such an awesome product.
Excellent
Excellent
Keywords
analytics
analytics dashboard
google analytics
google analytics dashboard
google analytics widget
monster insights
monsterinsights
Was this useful?
Would you recommend this plugin summary to your friends?
---