Did you know?
🎂

This plugin celebrated it's 8th anniversary 5 months ago.
Key Numbers
$16.00

Price

881

Total Sales

4.95

Avg. Users Rating

44

Total Ratings

2015-04-21

Added

2016-10-21

Last Update
Description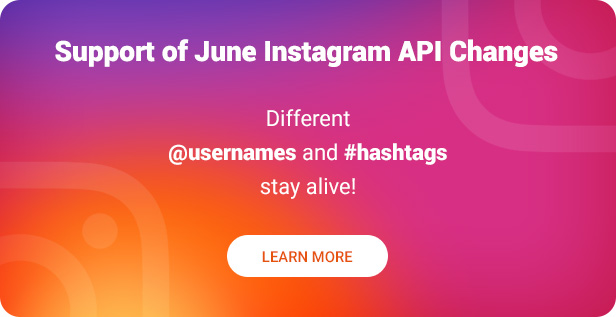 InstaLink is one of the best Instagram plugin for WordPress for showing your own Instagram account. Display photos by username or by hashtag in a simple and eye-catching widget. It's a responsive, flexible and user-friendly tool with the most needed features.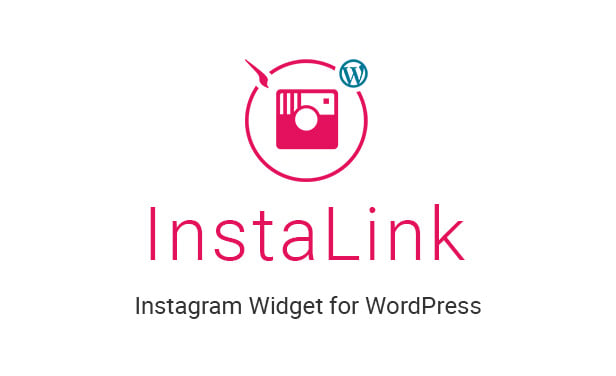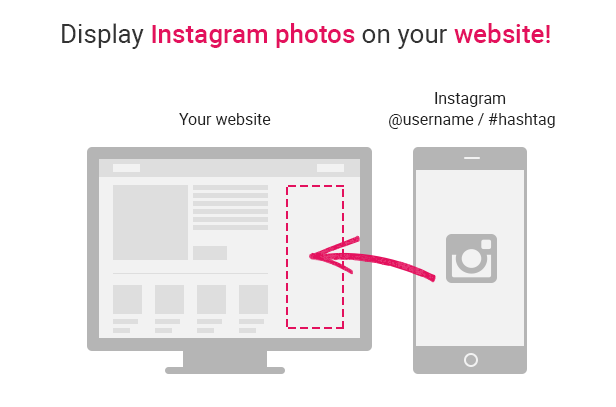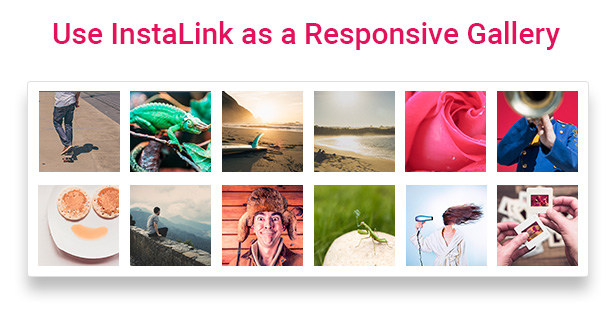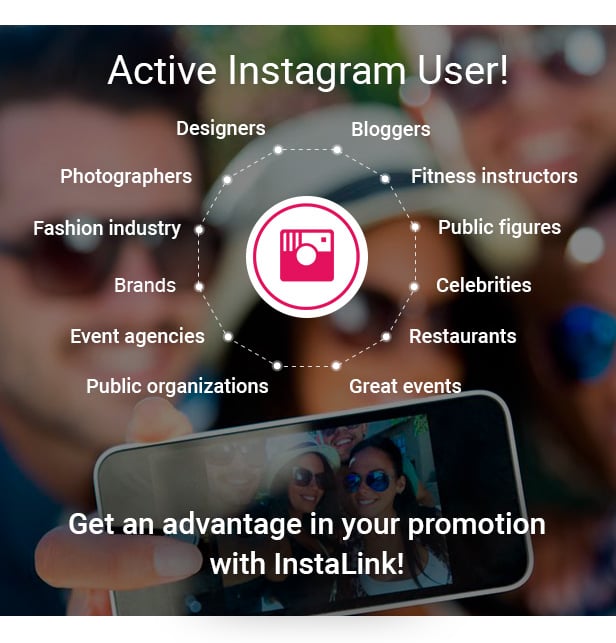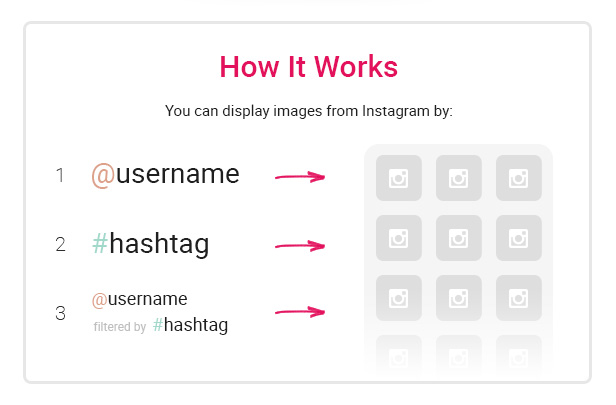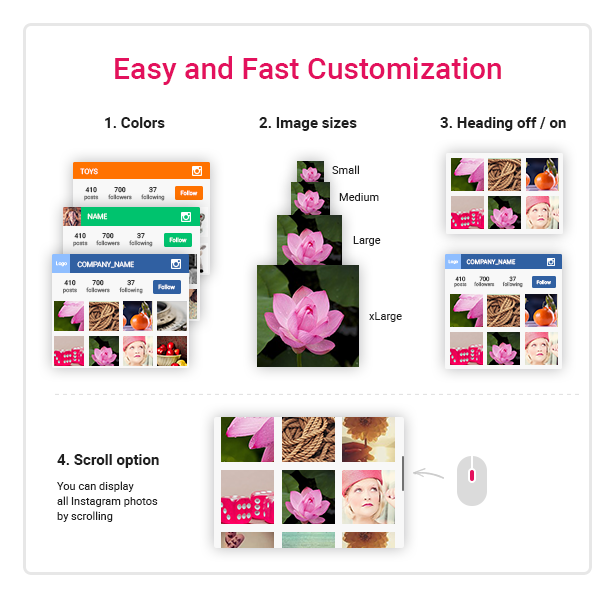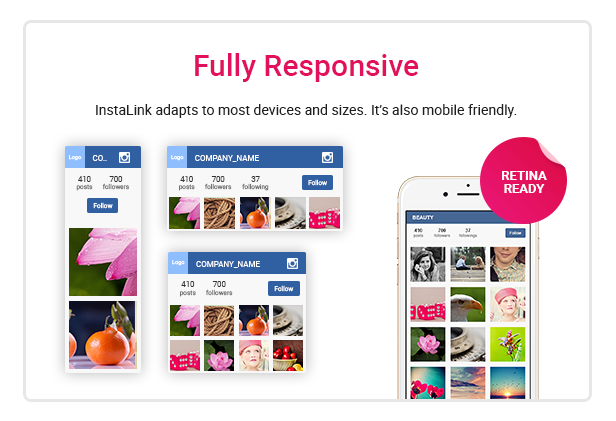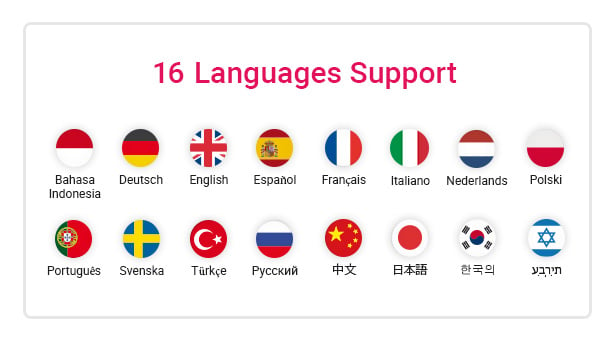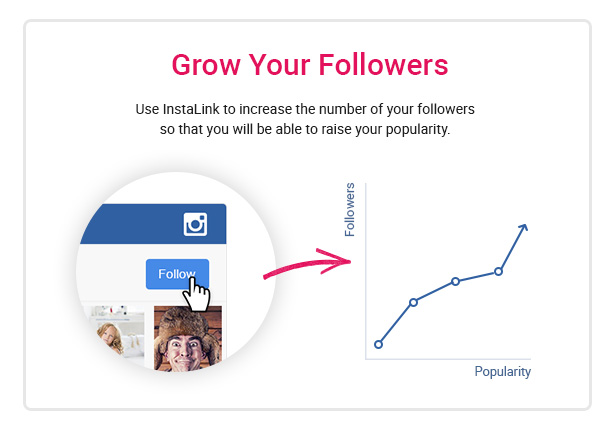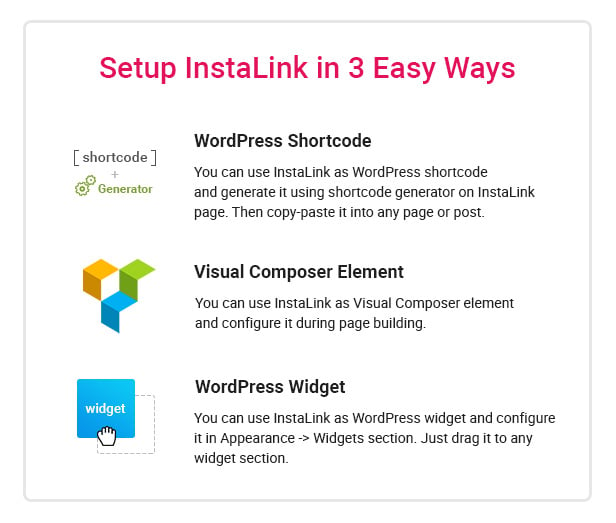 What our customers say about InstaLink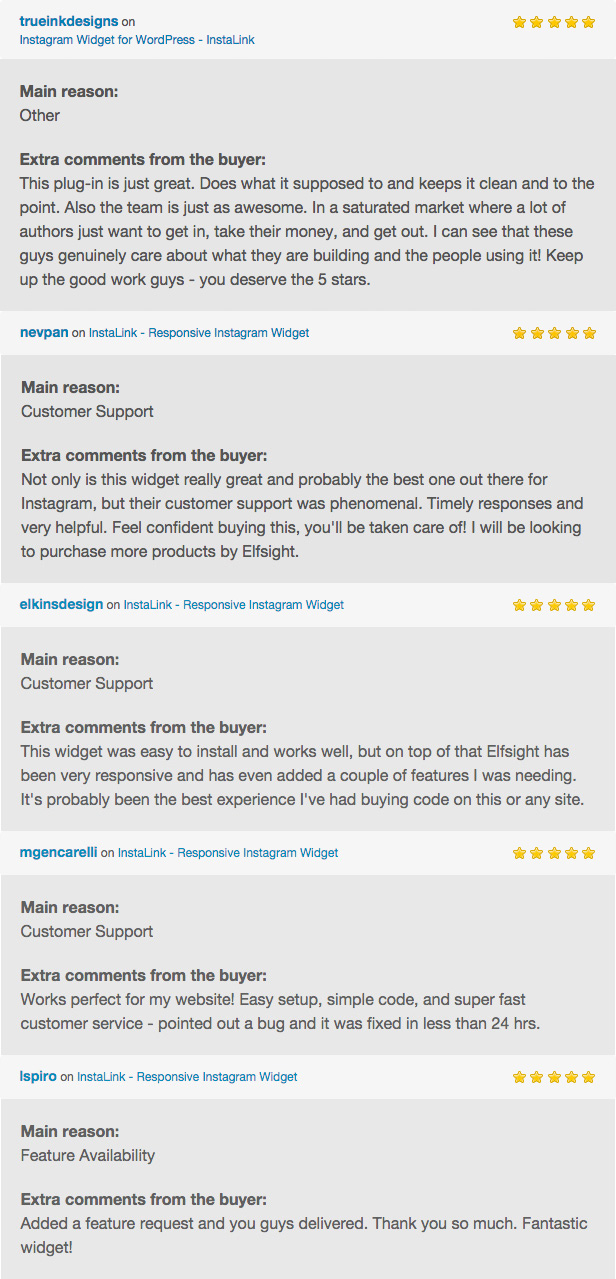 Embed Instagram Feed to WordPress
You'll find more than 20 functions in InstaLink for maximum impressions. Embrace capabilities of Elfsight high-quality tool to draw more attention to your Instagram profile, its data and, as a result, increase number of your followers or when you'd like to get Instagram gallery with a very easy setup.
Moreover, our WP Instagram plugin can be installed as a gallery to decorate your website or to show your portfolio. Adapt it to any screen, show as many photos as you'd like, decide personally how widget should be presented on your web page – customization will make it easy in use. Adjust your Instagram widget to any need and don't forget to share with everyone.
You can use our product unlimited times per page with different settings. Moreover, you are able to embed it as many times as you want. Just don't forget to insert the specified html code each time you customize your Instagram widget for website.
InstaLink is a perfect photo widget for blog, site or shop so that you can share your Instagram account with web visitors, show content by hashtag and increase followers count.
  Plugin Features
Fit InstaLink to any screen resolution, set the required Instagram username or combine different hashtags. Additional customization will help you to choose the proper appearance for the best performance. By adding Instagram gallery to WordPress find a link with everyone!
Sources
There are several ways of using source option in Instagram feed WordPress plugin including such variants:
1. Only Username
Use it if you aim at displaying images from your or somebody else's official account. In case of using several plugins on your html site you can set different usernames for each feed. It's a great solution in case you'd like to have a WordPress Instagram widget for blog and persuade people to follow your social profile.
2. Only Hashtag
Set by any hashtag photos and embed the creative photo widget. Use this variant for composing Instagram photos with the required topic. You are not restricted in numbers and their combinations for each Instagram grid. Note that all pics will be shown in the natural timeline order.
3. Username with hashtags
This case is for those who strive to share Instagram photos only from one account, which have hashtags specified by you. Therefore, you will be able to create your hashtag feed and show the chosen Instagram photos in InstaLink plugin.
Design & UI
Fully responsive and mobile friendly Instagram plugin for WordPress
Support high-resolution displays (retina ready)
Button with the link to your Instagram ID page.
Smooth scroll and images loading by scrolling
Images, which were added to your live feed, adapt to any size of the WP plugin
Customization
Turn on/off plugin's header
Use WordPress Instagram gallery with or without scroll
4 sizes of images (small, medium, large, xlarge)
16 languages included
Manage custom UI colors to attract audience and make them follow widget content
Fully customizable via HTML and CSS
Install & Support
Use Elfsight Instagram photo widget as WP Shortcode or Widget
Shortcode generator for easy and fast installation
Our web plugin includes detailed developer documentation
Try InstaLink on mobile devices

  Support, Questions and Offers
Our support team is ready to answer on any kind of questions.
Do not hesitate to ask – we will figure out how to help you!
  More plugins by Elfsight


  Change Log – new version 1.6.7 is available for download
July 27, 2016 – Version 1.6.7
### Fixed
 * Missing photos by hashtags issue
 * Hashtag uppercase bug
 * API SSL certificate verification issue
 * API timeout issue
June 11, 2016 – Version 1.6.6
### Fixed 
 * API paths parsing issue
 * Hashtag loading issue
 * API url issue

### Added
 * Internal API new transport
June 02, 2016 – Version 1.6.5
### Fixed
 * Hashtags media order bug
 * Hashtags restriction issue
June 01, 2016 – Version 1.6.4
### Fixed
 * Thumbnails display bug
May 26, 2016 – Version 1.6.3
### Changed
 * API compatibility improvements
May 25, 2016 – Version 1.6.2
### Fixed
 * __DIR__ constant bug
May 24, 2016 – Version 1.6.1
### Fixed
 * Old PHP versions compatibility
May 21, 2016 – Version 1.6.0
### Added
 * New Instagram API requirements support 
Attention! Important update to fit Instagram API Changes.
Learn more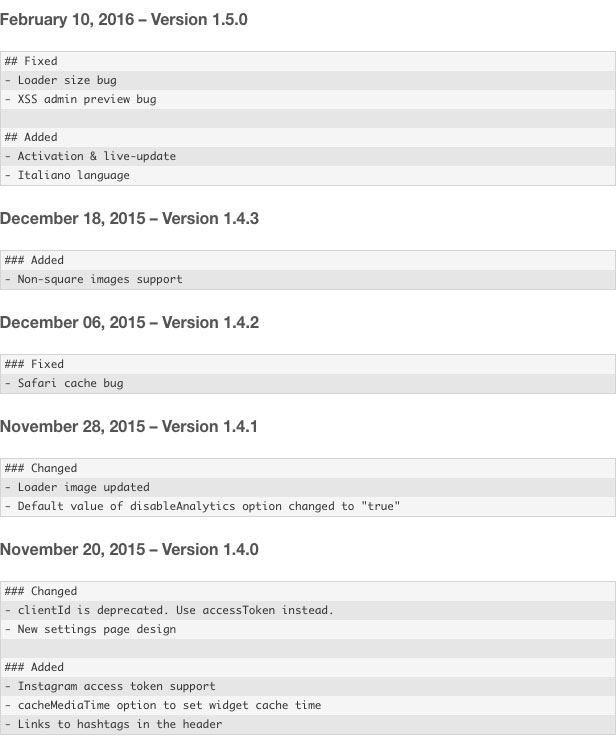 More info about client id deprecation



Author
Elfsight
Keywords
instagram
instagram carousel
Instagram feed
instagram gallery
Instagram photos
Instagram plugin
instagram social feed
Instagram widget
responsive Instagram
wordpress instagram
Was this useful?
Would you recommend this plugin summary to your friends?
---