Did you know?
🎖

Not a chartbuster, but still good. This plugin ranks amongst the Top 1000 plugins.

❤️

Plugins developed by these contributors are not that popular.
Key Numbers
$79.00

Price

14

Total Ratings

2018-06-14

Last Update
Description
Composite Products
★
★
★
★
★
14 reviews
  |   Developed by SomewhereWarm
A powerful kit-building solution for WooCommerce
Looking for a way to offer customizable product kits, such as custom computers, skateboards, gift-boxes, or made-to-order jewelry? Look no further!
Composite Products is an elegant, robust tool for creating powerful product configurators and kit-builders. Engineered specifically for kitting applications with advanced inventory management and scalability requirements, the Composite product type works great in a broad range of use cases, thanks to its: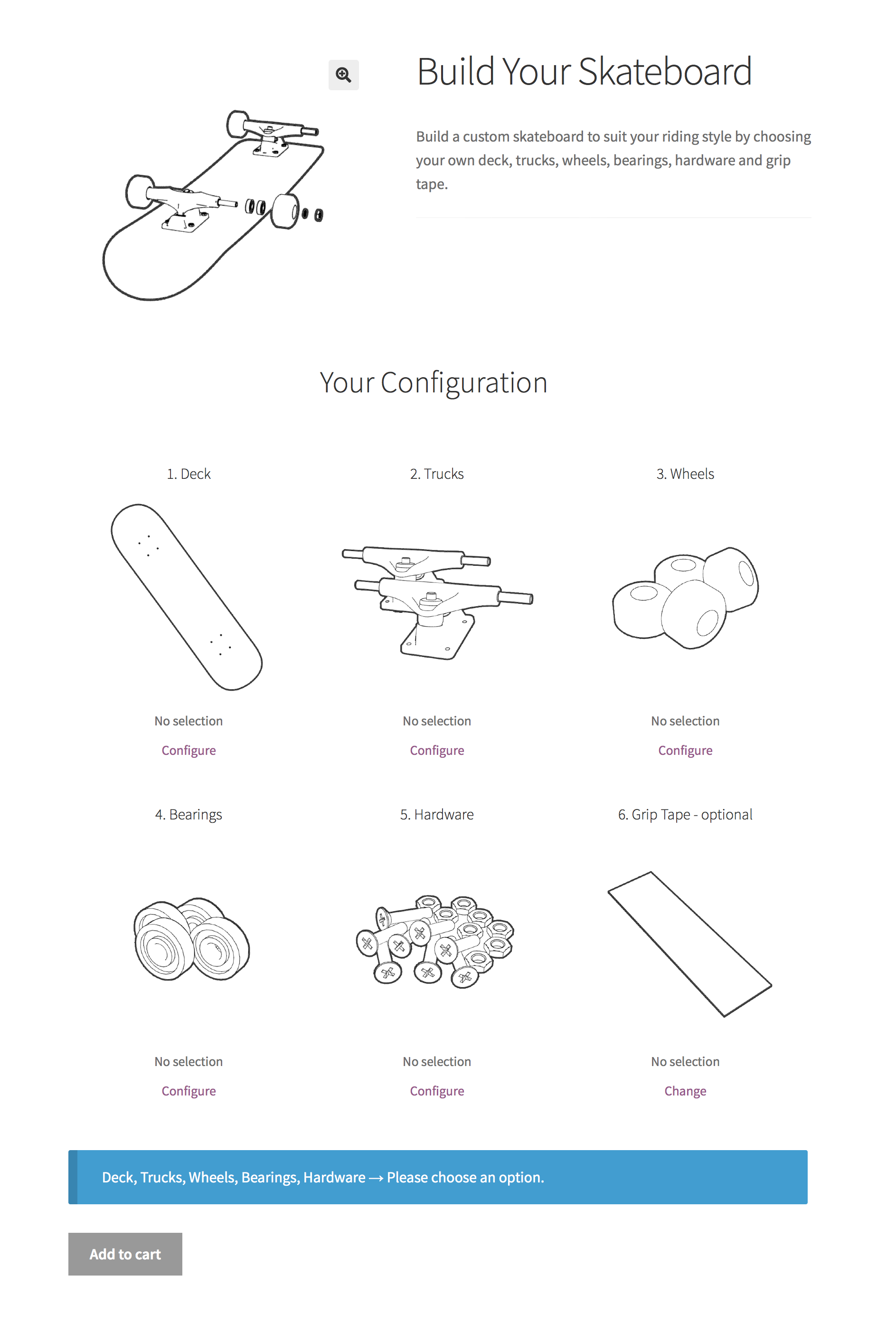 Unclutter your workflow
Its clean, intuitive interface helps you set up even sophisticated configurators in minutes.
Want to offer a custom skateboard? Start by creating its building blocks: A deck, trucks, wheels, bearings and hardware for assembly. Then, populate each with options by choosing products — or categories — from your catalog. Finally, choose a flow and layout that will keep customers engaged — and start selling!
Composite Products supports simple & variable products, product bundles and even downloadable/virtual flavors of these product types, giving you an advanced set of tools to make almost anything possible.
A streamlined, personalized purchasing experience
Love the simplicity of variable products, but need a way to manage the inventory of each option? How about using a multi-page, multi-step layout to spread things out a bit and show more detail?
With multiple layouts and option styles to choose from, every Composite product can be quickly adapted to offer a streamlined, personalized purchasing experience.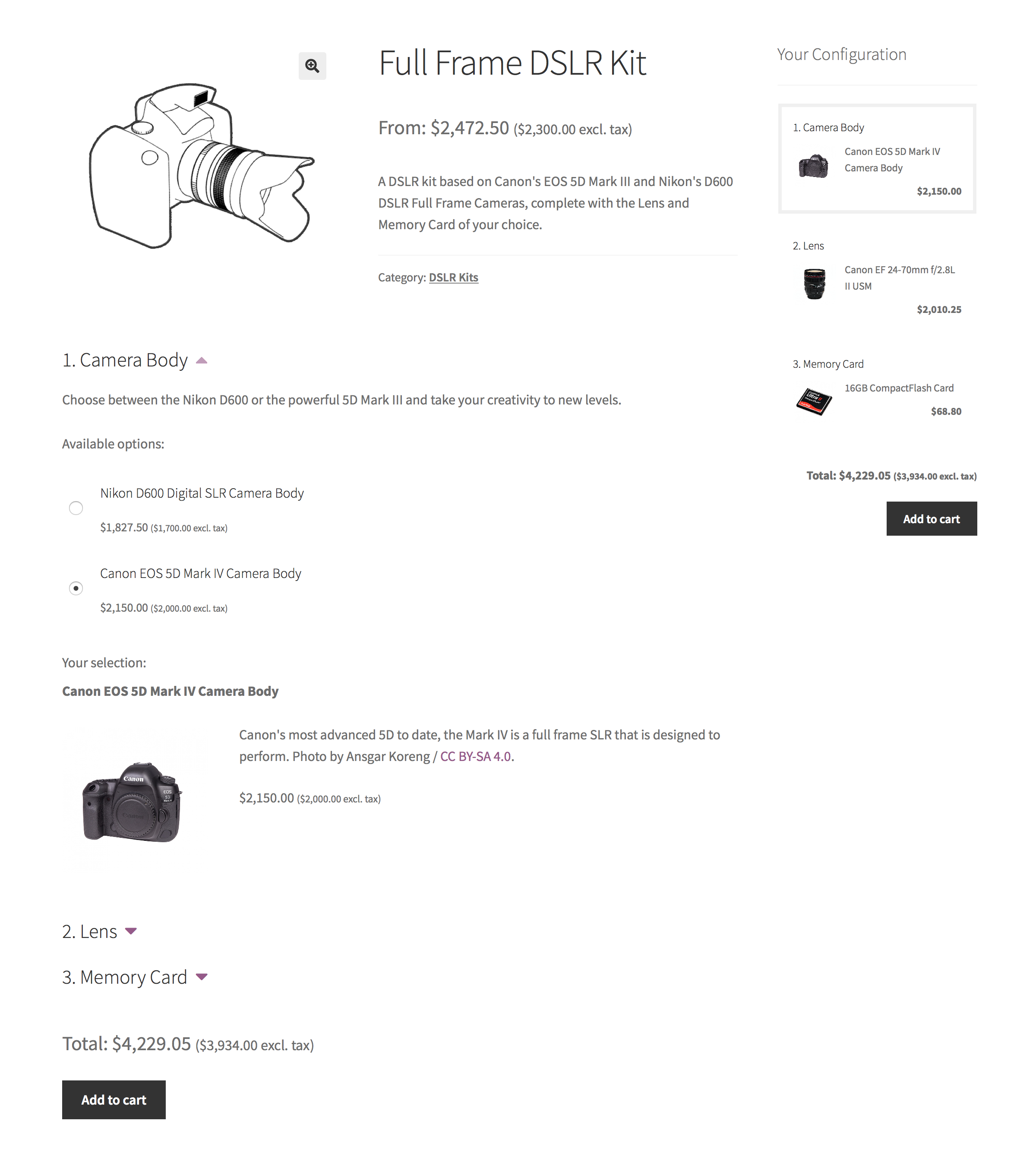 Features that scale
Got thousands of decks, trucks and wheels in your skateshop catalog? Sure enough, you'll want to offer them all in the custom skateboard configurator you just built!
No problem — choose a paginated, responsive options view to make browsing more fun, and help customers find exactly what they are looking for by enabling product sorting/filtering controls.
Conditional flows and dependent options
Composite Products brings advanced conditional logic at your fingertips: Use scenarios to control the visibility of entire configuration steps or individual options.
Too many rules to input manually? More variables to account for? Need to trigger custom conditional actions? Its extendable architecture and developer-friendly documentation have established Composite Products as a great starting point for any demanding kit-building project.
An extendable, adaptable architecture
Almost there, but not quite? Check out our growing collection of snippets and mini-extensions for some of the most commonly-requested customizations!
Out of luck? Not yet! Composite Products includes an impressive arsenal of action and filter hooks for customizing every detail of its behavior.
Looking for REST API support? We got your back there, as well!
Is Composite Products right for you?
Composite Products is suitable for creating advanced product kits that consist of multiple components with several product options. If you want to create simple product packages with static content, Product Bundles might be a better option. Note that Product Bundles can be nested in components to build even more complex configurators.
WooCommerce provides even more ways to sell products in kits, such as
Grouped Products
,
Chained Products
and
Force Sells
. Can't figure out which extension is right for your store? We've written a
handy comparison
to help you decide.
Contributors
SomewhereWarm
Reviews
What is great about this product?
Great Support!
How could it be improved?
This plugin is a tiny bit complicated to use because there are so many options but it works perfectly once you get the hang of it.
I needed support for a problem I was having and support came through very quickly. I will use this plugin again on future projects!
What is great about this product?
Great extension with excellent customer service
How could it be improved?
This extension has been a life saver for my WooCommerce site. Some of my products can have as many as 13 configurable options, and just using dropdown menus wasn't going to cut it.
Additionally when I reached out to the developer with some problems I had while customizing the plugin for my theme, they were extremely helpful. Great customer service.
What is great about this product?
Great features, Quality code and fantastic support
How could it be improved?
The support which comes with this plugin is a great example of the WordPress ecosystem of paid plugins generally being good investments. The plugin's features are very useful and their support saved me hours of work by answering my question fully (with a code snippet!) rather than just signposting me in the right direction.
What is great about this product?
Great plugin for complicated shop function
How could it be improved?
Fantastic plugin for making a complicated composite product in woocommerce, and really helpful support when I need some extra functions and help, also provided a customised add-on to suit my requirements. Highly recommended.
What do you think about this product?
Fixed a critical need for my store - inventory and shipping
How could it be improved?
A key function that I needed for our store was provided with this plugin and the support has been excellent in terms of responsiveness and solutions. Thank you!
What is great about this product?
Excellent plugin
How could it be improved?
Good plugin with good support!
What is great about this product?
Great product and support
How could it be improved?
I have been using this plugin for more than 2 years and never had any issues during that time. Recently during a WordPress update I came upon an issue related to my website setup that SomewhereWarm graciously solved for me.
Very helpful and highly recommended product.
What is great about this product?
Excellent flexibility and powerful filtering options make this a great guided shopping experience for WooCommerce.
How could it be improved?
Built-in support for WooCommerce Subscriptions would be wonderful.
What is great about this product?
It is stable, has some awesome features, is very versatile and has a great support.
How could it be improved?
Possibility to add / see the product gallery for the selected composite.
What is great about this product?
Composite product made a big difference in my webshop and the support is excellent!
How could it be improved?
At the moment I can not think of anything =) It is good as it is.
What is great about this product?
Awesome product with great support. Very happy
How could it be improved?
It's pretty damn good. Don't think it needs much improvement
What is great about this product?
Super customizable, and the support is amazing. The documentation is good, but because the plugin does so much, it's helpful to be able to ask specific questions and get fast and detailed responses. I have had very good success with it!
How could it be improved?
I am being asked how it can be improved, and I have no suggestions.
What is great about this product?
I have found hardly anything you can't do with this product. It's super flexible and fairly easy to customize as needed. Also, whenever I had any issues, I reached out to support, and they got back to me within 24 hours with super helpful responses.
How could it be improved?
It would be great to add info icons all over the place (it's already in some areas), including a link to the area in the documentation that elaborates on that specific part.
What is great about this product?
Great product to easily extend products in your woocommerce store so much further. Amazing support from the development team who are always quick to answer and eager to help wherever possible. We've been provided with numerous snippets of code to customize our use of this product further which has been truely amazing.
How could it be improved?
Enable easier integration & compatibility with other (third party) products such as wishlists, quotations, etc to further extend woocommerce when using Composite Product types. There still seems to be a real lack of compatible products around.
Keywords
product type
products
woocommerce extensions
Was this useful?
Would you recommend this plugin summary to your friends?
---