Did you know?
🎖

Not a chartbuster, but still good. This plugin ranks amongst the Top 1000 plugins.

❤️

Other plugins from this team are not picking up well. Proceed with caution.
Key Numbers
$249.00

Price

2018-08-14

Last Update
Description
WooCommerce Bookings
Developed by WooCommerce

This powerful extension allows you to sell time or date-based bookings, adding a new product type to your WooCommerce site. Perfect for those wanting to offer appointments, services or rentals.
Bookings features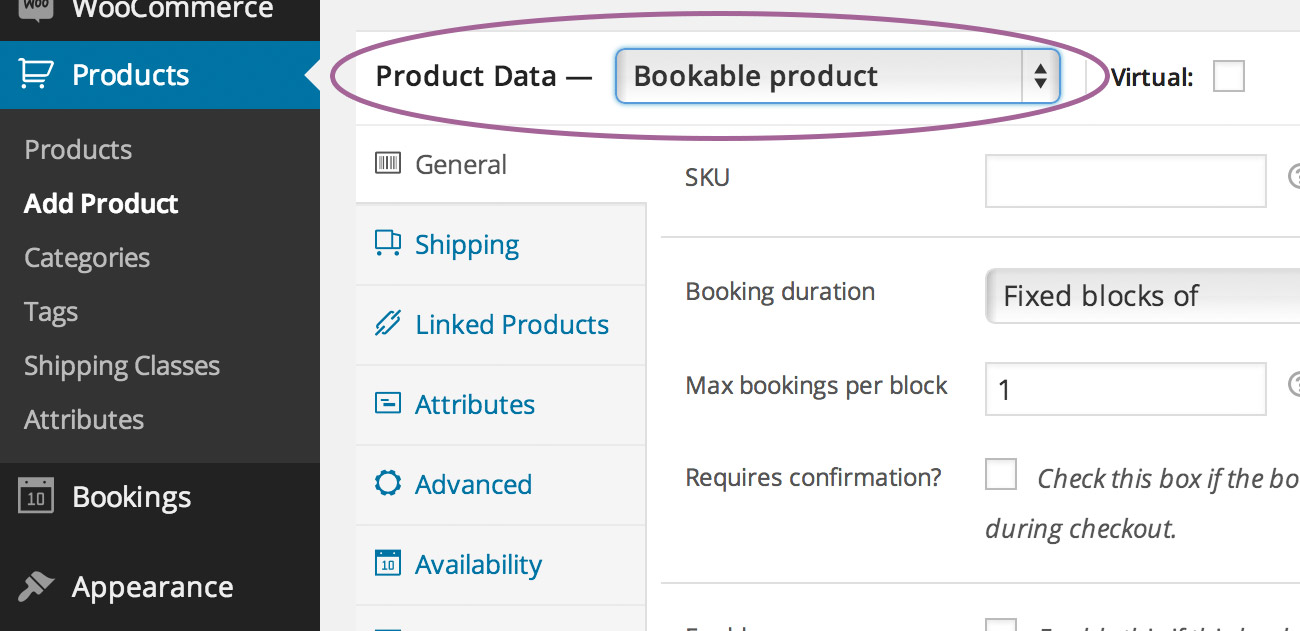 Create booking slots

Optionally create fixed time slots when bookings are available, or let customers decide.
Multi-person bookings
Have bookings created for a customer-defined number of people, and optionally offer a per-person discount.
Customer email notifications

Set up email notifications to be informed of confirmed or requested bookings, as well as booking reminders.
Booking confirmation controls
Make bookings right away or send to you for approval.*
* Bookings requiring approval won't be invoiced until you confirm.

Intuitive booking management

Filter and update bookings, as well as booking availability, directly from your WordPress admin.
Manually create bookings

Create bookings manually via the WordPress admin, mirroring the frontend bookings form your customers see.
Custom-tailored booking costs
Define custom costs per booking, resource, block, people or duration of the reservation made.
Control booking availability

Define when your booking is available to customers.
Other notable features
What's new in 1.9?
Added support for free Accommodation for Bookings add-on, making it possible to create and manage overnight bookings for accommodations. Add check-in/check-out times, set special rates for weekends or holidays, and more.

Added time ranges for custom dates. You can set availability and cost rules for hours on specific dates.

Improvements in creating custom booking statuses.

Improvements to the date/time picker code.
FAQ
Can I see a demo of Bookings in action?
Yes, you can see a demo of Bookings using the Resort theme at: Bookings Demo
Can I add fields to the bookings form?
You can, using the Product Add-Ons extension for WooCommerce. We compiled documentation on integrating Product Add-Ons as well.
Does WooCommerce Bookings support WooCommerce Subscriptions?
While WooCommerce Bookings doesn't currently support WooCommerce Subscriptions, this is on our development roadmap.
Does WooCommerce Bookings support recurring bookings?
While WooCommerce Bookings doesn't currently support recurring bookings, this is on our development roadmap.
Can the same resource be used across multiple booking products?
Yes, resources can be used across multiple bookable products. To learn more, see: WooCommerce Bookings Resources.
Can customers modify their bookings?
Bookings can currently only be amended by the website administrator.
Can I book a specific day?
All bookings are time and date based, rather than based on specific days.
WooCommerce Bookings documentation
Contributors
woocommerc
Keywords
product type
woocommerce extensions
Was this useful?
Would you recommend this plugin summary to your friends?
---