Did you know?
🎖

Not a chartbuster, but still good. This plugin ranks amongst the Top 1000 plugins.

❤️

Other plugins from this team are not picking up well. Proceed with caution.
Key Numbers
$199.00

Price

11

Total Ratings

2018-09-10

Last Update
Description
WooCommerce Subscriptions
★
★
★
★
★
11 reviews
  |   Developed by Prospress
Capture More Residual Revenue with Recurring Payments
Can you guarantee how much money your store is going to make this month? If you offered subscription-based products, you could do just that.
With WooCommerce Subscriptions, you can create and manage products with recurring payments — payments that will give you residual revenue you can track and count on.
WooCommerce Subscriptions allows you to introduce a variety of subscriptions for physical or virtual products and services. Create product-of-the-month clubs, weekly service subscriptions or even yearly software billing packages. Add sign-up fees, offer free trials, or set expiration periods.
A subscription-based model will allow you to capture more residual revenue — and all you have to do is ship the orders.
Why Use WooCommerce Subscriptions?
WooCommerce Subscriptions Features
Free Trials & Sign-Up Fees
Charge an initial amount to account for customer setup costs, or allow customers to try before they buy, by adding sign-up fees and free trials to any subscription product.
Subscription Management

Store owners get full-featured subscription management via the WooCommerce > Edit Subscription administration screen. You can suspend or cancel a subscription, change the trial expiration, add items, shipping, fees or taxes to the subscription or modify the recurring total for future payments.
Synchronised Payments
If you only want ship on certain days of the month, or align all customers to the same annual membership term, you can with WooCommerce Subscriptions' renewal synchronization feature. You can even prorate the first payment of a synchronized subscription purchase.
Flexible Product Options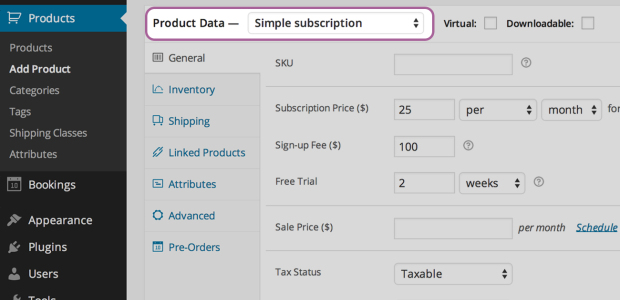 When creating a subscription product, you can make the product downloadable, virtual or physical, charge renewal payments weekly, monthly or annually, limit the product to one-per-customer and even charge shipping only on the initial order.
Subscription Coupons

Offer customers a discount on their monthly payments or just the sign-up fee. Subscriptions includes both recurring discount coupons and sign-up fee coupons.
Variable Subscriptions

Create variable subscription products and allow your customers to choose a subscription that suits their needs. You can even allow customers to choose their own billing schedule.
Subscriber Account Management

Your customers can also manage their own subscriptions. With the My Account > View Subscription page, subscribers can suspend or cancel a subscription, change the shipping address or payment method for future renewals and upgrade or downgrade their subscription.
Upgrades/Downgrades

Allow customers to upgrade, downgrade or cross-grade between different subscription products. With flexible proration options for the recurring amount, sign-up fee and length, you can also customize the costs of switching to a new subscription product to suit the needs of your store.
Multiple Subscriptions

Your customers can also purchase different subscription products in the same transaction and Subscriptions will group the products to reduce the payment gateway fees and logistical overhead for their future renewals.
Customer Emails

Automatically notify customers when a subscription renewal payment is processed, a subscription is cancelled or when a subscription has expired with the built-in subscription emails.
Capture More Residual Revenue
Whether your goal is to ship a surprise bundle of products to faithful customers every month or bill them for an in-person service provided by your small business, WooCommerce Subscriptions can take the stress out of capturing that all-important residual revenue.
You'll be able to track just how many subscribers you have, when they're being billed, and how much revenue you're generating — meaning you'll always know how much revenue your store can count on as you continue to grow.
How to Get Started
Buy this extension 🙂
Download, install, and activate the plugin in your WooCommerce store
Set up your first subscription-based product or service and take it live
Check out our detailed documentation to help you customise your subscription products, renewal options and more
Sit back and enjoy earning more revenue!
Contributors
prospress
Prospress Inc
Reviews
What is great about this product?
worked well for me
How could it be improved?
Does exactly what is says which is just what I needed. Very pleased.
What is great about this product?
5 stars without question. Honestly confused by the two bad reviews here.
How could it be improved?
I've been using the subscription plugin for about 4 years and have only good things to say about it. I noticed there were only 3 reviews here so I thought I'd take a moment to read them. I'm baffled by the 1 and 3 star review. I can't vouch for the 5 star review because it wasn't super detailed, but I'm glad it worked out for that person.
My experience with this plugin over the last 4 years has been nothing but good…not just with the plugin itself but with the people behind the plugin.
I actually started using it with a pirated version to start and did a few dumb things that screwed up my database. The people behind the plugin helped me get back up and running and I was happy to buy it at full price.
With all of the things that can go wrong with a website, it's nice to be able to know that subscriptions isn't something I have to worry about. I've had many clients use and love this plugin with no complaints.
The only issue I ever had with it was during the mini chaos that ensued after WooCommerce's update to 3.0. There was a temporary problem that some people got (I was one of the unlucky) that resulted because I updated WooCommerce before updating the plugin. Normally that would be okay, but in this instance it was a problem. But they quickly fixed the issue and I was back up and running in no time.
Other than that very small glitch over the 4 years I've used it, it's been perfect and is one of the reasons I love and rely on WooCommerce for myself and my clients.
These guys know their stuff and have been constantly improving and innovating on an already phenomenal product. I sometimes wish I could offer more complex subscriptions just to utilize all the options that are available.
I'm not understanding the issue stated by the guy that gave one star…hopefully he can get whatever his problem is resolved, but none of my clients that do subscriptions with shipping have had any issues with coupons. The 4 additional coupon options are very helpful.
As for the 3 star guy, I'd say drop PayPal. I know they are making some changes with BrainTree and I need to try that out, but PayPal has always had issues with subscriptions, changing subscriptions, etc. From what I read, the problem wasn't with Subscriptions Plugin, but with PayPal and also him just not wanting to pay for a service that it sounds like he needs (i.e. Stamps.com).
When I started making sitesI tried doing everything for free or super cheap (i.e. my pirated version of Subscriptions), but I found out that it's worth doing things the right way. The expense that is incurred by using the correct tools in the correct way is much less than the cost in both time and money of trying to do it without the right tools/etc.
Anyway, not even sure if anyone will read this, but I thought I'd try to provide some balance to the reviews here. I think most people that use this plugin just use it and love it and don't have any reason to come back to the review page. If anything, it kind of says something that only 2 people came here to complain with how many successful installs there are out there that are helping people build their online businesses.
I've been impressed with the innovation and improvements that the people behind this have put into this plugin and I look forward to continued improvement as time goes on.
What is great about this product?
Great
How could it be improved?
Made our life a whole lot easier as it bills automatically every month.
What is great about this product?
Excellent product and support
How could it be improved?
This extension has worked great for my store. Does everything we need it to.
Support: I ran into a problem when migrating the site and changing the database prefix (protip: don't do that) and some subscriptions didn't carry over correctly. Brent from Prospress was great and told me exactly what I needed to do to fix it. Recommend for anyone that handles WooCommerce subscriptions!
What is great about this product?
Great Customer Service
How could it be improved?
I had an issue that turned out to be a problem with two separate caching plugins. The customer service reps at prospress were wonderful and helped me figure out the issues. I would certainly recommend this plugin especially now knowing how good they are with service.
What is great about this product?
I like the subscriptions extension. After initial installation, and set up, we ran into some issues, and contacted support. Sarah, Nick, Zach and Bernat from the support team did a great job investigating, they even took the time logging onto our own site to test, and eventually we realized that the issues were caused by our own plugin, and my lack of understanding of the product. I highly recommend this product, and the team behind it.
How could it be improved?
None found for at this moment.
What is great about this product?
The product has already saved our business. Allowing our customers to pay monthly instead of buying tickets has been amazing. It was extremely simple to setup and we haven't had any issues. We even migrated our website to a new location.
How could it be improved?
I can't really think of anything.
What is great about this product?
Subscriptions is integrated nicely into WooCommerce to be very flexible for any need we have had. Additionally, their support has been priceless; this plug-in is easily worth it's cost!
How could it be improved?
I currently do not have any suggestions for this plug-in at this time.
What didn't you like about this product?
Literally, the WORST customer service I ever experienced. They take FOREVER to answer, I bought this product a few weeks ago and still didn't solve any of the issues I had. You can't call them, only via email and you will get an answer every 24h if you are lucky...It's ridiculous!
How could it be improved?
Hire a better customer service company
What do you think about this product?
liket it and works well however customer support is not great
How could it be improved?
have better customer support instead of answering very infrequently and generic answers without looking into the real issue needed to hire other developers to figure out problems in the past
Excellent product, excellent support! I can not recommend this product enough.
Keywords
8 years of Woo
product type
subscriptions
woocommerce extensions
Was this useful?
Would you recommend this plugin summary to your friends?
---