Did you know?
❤️

Other plugins from this team are not picking up well. Proceed with caution.

🎂

This plugin celebrated it's 3rd anniversary 1 month ago.
Key Numbers
$40.00

Price

89

Total Sales

5.00

Avg. Users Rating

7

Total Ratings

2017-10-25

Added

2018-03-30

Last Update
Description
Create unlimited combo products with different options and enable your customers to build their order easily in one page and see the price instantly. Available with different styling options and extended price calculator.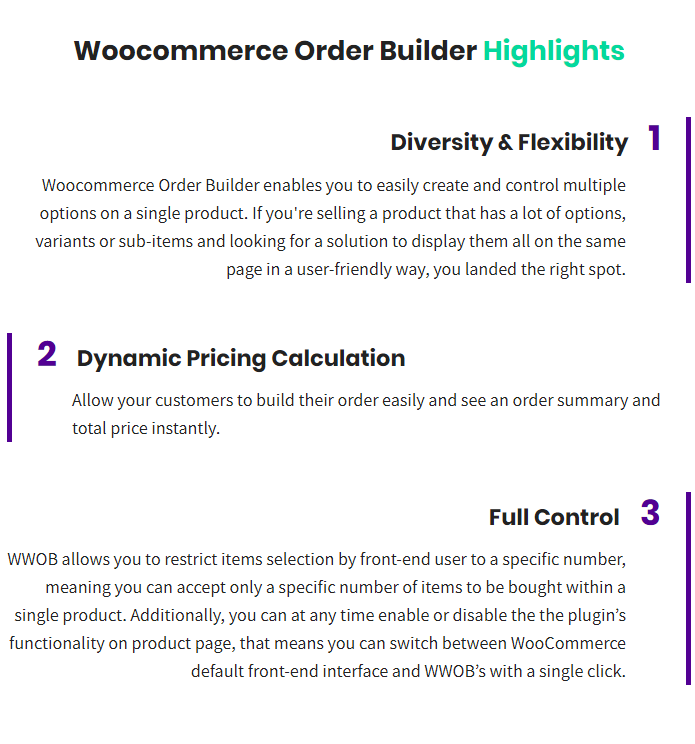 In addition to a number of different features, WWOB allows you to customize your product styling easily with extended options and pre-made styles. These professionally designed styles are built entirely with our options and require no custom coding. All styles can be easily activated with one click.

Please view the documentation for full demonstration of how the plugin works, If you still have any questions please submit here before buying the plugin to make sure it will work well for your specific need.
Changelogs

= 1.0.1 = 10/27/2017
*  Added option to disable image.
*  Fixed flickering sticky bar issue.
*  Fixed images dynamic height issue.


= 1.0.2 = 10/28/2017
*  Added quantity selection feature.
*  Improved sticky-bar performance.
*  Added ability to set base-price (Price added to the total of selected items).



= 1.0.3 = 11/04/2017
*  Added hooks and filters for web developers.



= 1.0.4 = 11/06/2017
*  Added enhanced calculator.
*  Improvements and new feature to sort products.
*  Added the ability to change product display between WooCommerce layout and WWOB layout.



= 1.0.5 = 11/06/2017
*  Fixed bugs.
*  Added new hooks and features.
*  Improved WWOB product options.



= 1.0.6 = 11/12/2017
*  Fixed WC variation conflict bug.
*  New actions and filters
*  Compatibility fixes for PHP versions over 7.0.14



= 1.0.7 = 03/02/2017
*  Fixed bugs.
*  added wwob class to body to have better control over the pages where wwob is used.



= 1.0.8 = 30/03/2018
*  Fixed bugs
*  Made transation ready
*  Added preview image option
*  Added special instruction to email

Contributors
bomsn
Reviews
for Customizability by dgabran 6 months ago This plugin is awesome. It has a lot of potential and is simple to use.I think it would be off the chart if developer ability to add conditional logic (variable pricing) and bulk import of menu items,
for Feature Availability by chelmedia 6 months ago Awesome plugin, great customer support!
for Customer Support by Ami6c 7 months ago This plugin is great for my DIY option. Customers will be able to use it easily. Looking great, very clean and user-friendly plugin. Thank you Ali for your quick reply. Amina
for Design Quality by hollysnails 8 months ago works great! when several others didnt .
for Design Quality by neil74white 8 months ago This is a really really neat plugin, great work. I am sure I will be buying more licenses :-)
for Customer Support by Babkun 11 months ago Awesome code quality, easy to use, does what it os supposed to do. Excellent support from the creator. I hope to see more from him!
for Other by tiagoangelo 11 months ago 5 stars for all reasons! Great plugin for customizing products, with a great flexibility and modern design. Top support, since plugin launch, and open all the time to suggestions, new features and improvements.
Keywords
composite products
ordering system
variable product
variations
woocommerce custom options
woocommerce custom price calculation
woocommerce customize product
woocommerce extension
woocommerce extra options
woocommerce extra product options
WooCommerce Form
woocommerce order builder
woocommerce product calculator
woocommerce product choices
woocommerce product options
Was this useful?
Would you recommend this plugin summary to your friends?
---